God cares more about your character than your comfort.
I've been getting this message through almost every route imaginable lately. Through Bible study. Through sermons. Through prayer. Through books. It's clear that God is working, but he's not working to make my life safe and manageable. He's working to transform me on the inside.
This leaves me out of control. Which is a problem. Because I like feeling "in control." In fact, I will sometimes try to organize just to achieve some semblance of order, as if it will calm the inner storm.
Lately I've rediscovered that I enjoy playing the Nintendo game Tetris. When I sit there with the (aptly named) controller in my hand, I feel a sense of well-being. Since I have power over what happens on the screen, I can orient the blocks to make everything fit together and disappear.
As the levels increase, blocks fall faster. I have to adapt quickly so that the pieces don't hinder my progress. Ultimately, they fall so fast that I can't control them anymore. They pile up and the steel door comes down. Game over.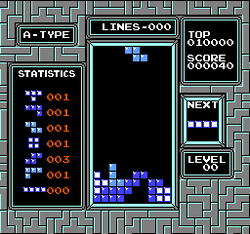 Like the early levels of Tetris, my difficulties in adolescence used to surface manageably, one at a time. Ultimately things would fall into place, and the problem would disappear.
However, in adulthood my challenges have fallen faster and stayed around longer. The rate of emerging difficulties has become greater than my ability to deal with them. Finally, the steel door comes down. My skills aren't sufficient anymore to play the game.
Paul talks about a similar experience in his own life in 2 Corinthians 1:8-9
"We do not want you to be uninformed, brothers, about the hardships we suffered in the province of Asia. We were under great pressure, far beyond our ability to endure, so that we despaired even of life. Indeed, in our hearts we felt the sentence of death."
When I read that, I find great comfort in Paul's direct admission that there are certain problems in life that are far beyond our ability to endure. God sometimes places us in levels of life-Tetris that we aren't prepared to handle. But why does he do it? Why would God want us to experience such a sense of powerlessness?
The next verses explain exactly why:
"But this happened that we might not rely on ourselves but on God, who raises the dead. He has delivered us from such a deadly peril, and he will deliver us. On him we have set our hope that he will continue to deliver us, as you help us by your prayers. Then many will give thanks on our behalf for the gracious favor granted us in answer to the prayers of many."
1) He does it so we will rely not on ourselves but on God. And God has the power to handle these things, proven by his ability to raise Jesus from the dead. We have this power at work in us.
2) Additionally, it is an opportunity for friends to pray for us and share our burdens, building a sense of love and community. It gives them the blessing of joining in God's work by helping us.
3) Lastly, these overwhelming sufferings are a chance for the world to see God's glory. When we are ultimately granted God's favor of answered prayer, many will give thanks.
If you are suffering beyond what you can bear, don't feel that you have failed or that you need to somehow find a way to get back in control. Though it may feel terrifying, it is a blessing to be made aware of reality - that none of us is truly in control - God is. When we call upon him in our helplessness, he hears us, others pray for us, and the world will see God work. Our job is not to fix it but to wait on him in faith.
The Lord is good to those who wait for him, to the soul who seeks him.
Lamentations 3:25